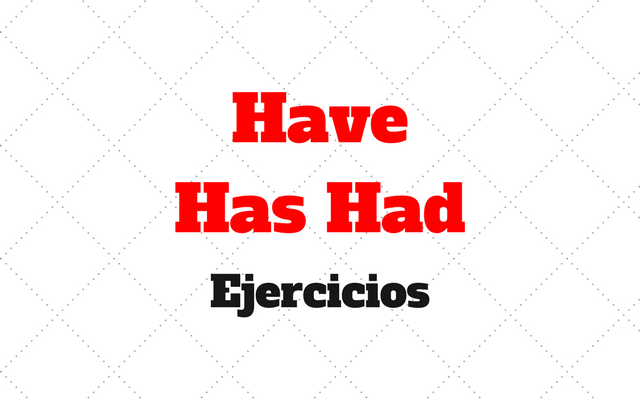 Have es un verbo complicado para el hispano parlante ya que tiene diferentes significados cuando es verbo principal (tener) y cuando es auxiliar (haber). Es importante saber diferenciar, y además cuándo se usan las diferentes derivaciones (have, has o had). Estas se practicarán en los siguientes ejercicios.
1) Completa las siguientes oraciones usando have, has o had.
a) ?????? you ever bought a car?
b) My sister ?????? won a spelling contest.
c) Computers ?????? a lot of electronic components.
d) I ?????? a puppy when I was a child.
e) Amanda ?????? long and blond hair.
f) Mexican festivities ?????? bright colors.
g) You ?????? not explained the results in the last meeting.
h) My father ?????? a blue car.
2) Traduce las siguientes oraciones
3) Empareja la pregunta con la respuesta. Coloca el número de la pregunta correspondiente a la respuesta.
1- Have you eaten yet?                                  ??????   Yes, I had.
2- Did you have class today?                       ??????   In the parking lot.
3- Did they have money?                             ??????   No, I didn't.
4- Had you finished by then?                      ??????   Yes, he has.
5- Who had found your keys?                     ??????   Mary had.
6- Where do you have your car?                 ??????   Yes, they did.
7- Has Peter called you?                               ??????   Yes, she does.
8- Does she has a headache?                       ??????   No, I haven't.
4) Coloque en el orden correcto.
Ahora, practica what, which, who, whose y whom ◄◄
Terminan aquí los ejercicios con had have y had. Muchas gracias por su visita.