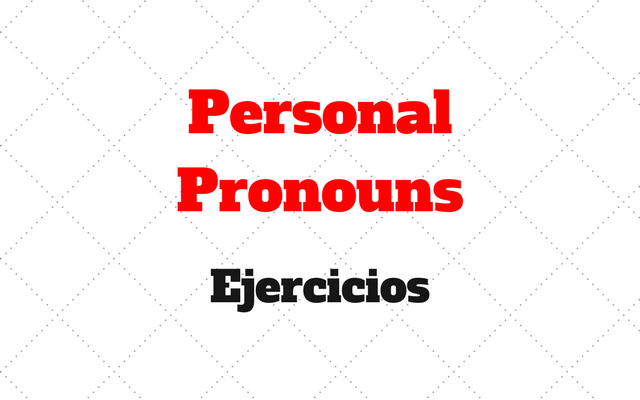 Por definición son palabras que reemplazan nombres o sustantivos, cuando estos reemplazan al sujeto o sujetos en una oración, se habla de pronombres personales. Pueden tomar diversas formas dependiendo del número (singular o plural). Es importante tener en cuenta que pueden referirse a objetos, animales o personas.
1) Empareja la pregunta con la respuesta. Coloca el número de la pregunta correspondiente a la respuesta en la columna.
1

Where is Mandy?
 ???
It was great.

2

Have you seen the dog?
 ???
We are going to a party.

3

How old is your father?
 ???
Sorry, I did.

4

How was the movie?
 ???
He is 64 years old.

5

Who are those kids?
 ???
It is playing with Mandy in the garden.

6

Where are we going tonight?
 ???
Because you did it.

7

Who ate my sandwich?
 ???
They are Marcus and Billy.

8

Why do you say it was me?
 ???
She is in the garden.
2) Ordena las siguientes oraciones.
Ejemplo:
a/ it/ PS4/ is/ .
It is a PS4.
3) Reemplaza el sujeto por el pronombre personal correspondiente.
( It – You – I – They – He – We )
4) Contesta a las siguientes preguntas usando la respuesta corta.
Ejemplo:
Are you a member of the club? (+)
Yes, I am.
Ahora, practica mine, yours, ours, his, hers, its y theirs ◄◄
Terminan aquí los ejercicios de pronombres personales. Muchas gracias por su visita.