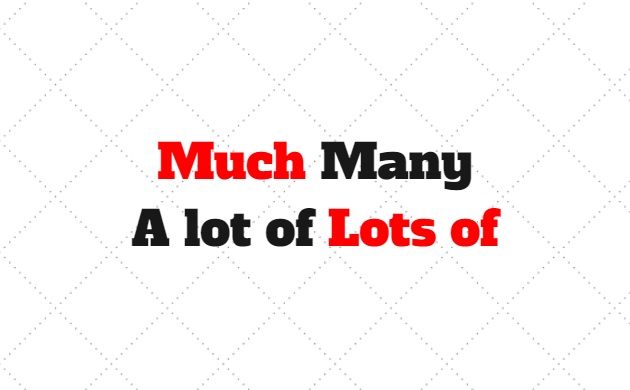 Usamos los cuantificadores much, many, a lot of, lots of para hablar sobre cantidades, cantidades y grados. Podemos usarlos con un sustantivo (como determinante) o sin un sustantivo (como pronombre).
1) Seleccione la palabra más adecuada.
a) I have seen this movie much – many – a lot times.
b) There is not lots – many – much time left.
c) Lots of – Much – Many love to you.
d) I like music very much – lots – a lot of.
e) She has so lots of – many – much friends.
f) I have spent many – a lot – a lot of time thinking about it.
g) How much – many – lots of students are there in this school?
h) Did you sell lots of – a lot – much tickets?
2) Traduce al Inglés.
3) Escribe la pregunta correspondiente a la respuesta.
a) No, there isn't much wine left.
Is there much / a lot of wine?
4) Complete las siguientes oraciones.
Ahora, practica either neither both ◄◄
Terminan aquí los ejercicios much, many, a lot of y lots of. Muchas gracias por su visita.