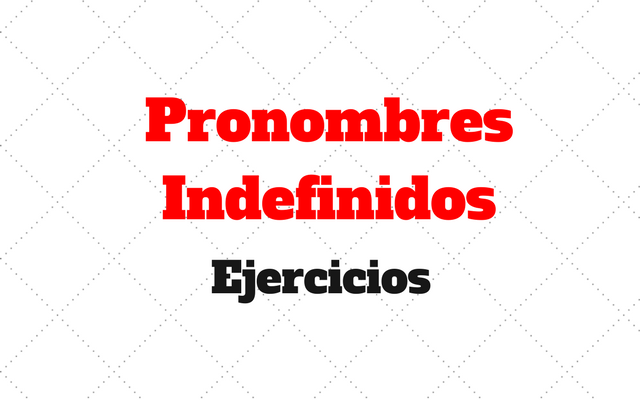 'Indefinit pronouns' son los que se refieren a uno o más objetos, seres o lugares no especificados. Se llaman indefinidos porque no indican el objeto exacto, el ser o el lugar al que se refieren.
1) Selecciona el pronombre indefinido más apropiado.
a) I have looked everything – everybody – everywhere for my keys.
b) There is nothing – anything – everything to eat. Go buy something.
c) There is somewhere – nowhere – anywhere as beautiful and romantic as Paris
d) Is there anybody – somebody – nobody that can help me?
e) I like to buy anything – nothing – everything from this store. It's gorgeous.
f) Would you like to go anywhere – somewhere – nowhere this weekend?
g) If there is something – nothing – everything I can do for you, call me.
h) I don't know everybody – nobody – anybody in this city.
2) Complete usando somebody, something, nobody, nothing, anybody, o anything.
3) Transforma la oración al modo indefinido cambiando el sustantivo por un pronombre indefinido.
Ejemplo: I could eat a sandwich. → I could eat something.
4) Traduzca al español.
Ahora, practica these, those, this y that ◄◄
Terminan aquí los ejercicios de pronombres indefinidos. Muchas gracias por su visita.