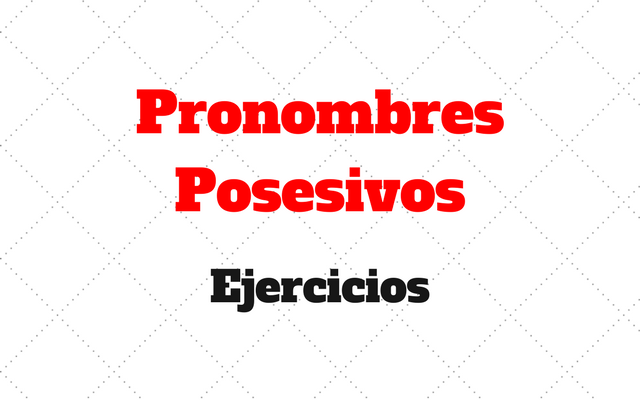 Son aquellos que designan la posesión. También se pueden usar como sustitutos de frases nominales, y generalmente se encuentran al final de una oración. Ellos sustituyen el objeto poseído, por tanto no van seguido por sustantivos o precedido por artículos. Estos son: mine, yours, his, hers, its, ours, theirs.
1) Seleccione el pronombre adecuado en las siguientes oraciones.
a) It's not my computer, it is mine – hers – your.
b) That is not our car. Us – Mine – Ours is red.
c) I lost my pen. Can I borrow yours – mine – theirs?
d) Is this my balance? I thought hers – mine – yours was higher.
e) Is this Kate's cat? Yes, it is hers – ours – his.
f) The bicycle belongs to Bill. It is its – his – theirs.
g) That food is for my parents. The food is mine – theirs – his.
h) We did it all wrong. The fault is mine – yours – ours.
2) Contesta las siguientes preguntas usando los pronombres posesivos.
a) Whose watch is that? (

Eric's

)
It's

his
3) Traduce al Inglés
4) Transforma las siguientes oraciones de acuerdo al ejemplo.
My house is big and your house is big. → My house is big and so is yours.
My house is big but your house is small. → My house is big but yours is small.
Ahora, practica there is there are ◄◄
Terminan aquí los ejercicios de pronombres posesivos. Muchas gracias por su visita.