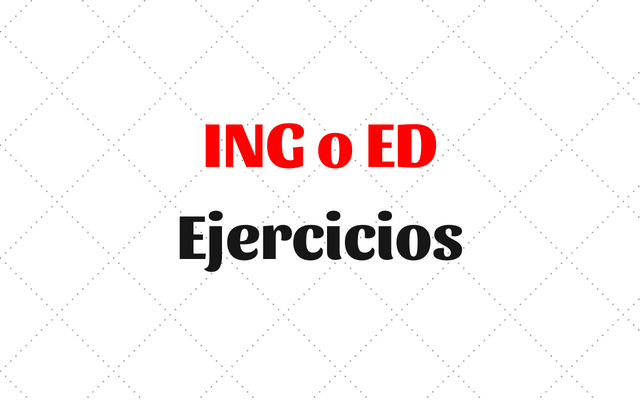 Los adjetivos formados a partir de un verbo + el sufijo ED o ING pueden fácilmente causar confusión ya que parten de una misma raíz; sin embargo, tienen diferentes significados aunque en ocasiones se traduzcan igual. Por tal razón, es importante que los practiques para evitar errores cuando te expreses en inglés.
1- Selecciona el adjetivo correcto para completar la oración
a) The way he explained me your address is very confused – confusing. So, I got lost.
b) We are very excited – exciting about your upcoming wedding.
c) The way you handled the problem made me feel very pleased – pleasing.
d) The movie left a very depressed – depressing message.
e) Your story is really fascinated – fascinating.
f) The constant shouts of the children on the plane are annoyed – annoying.
g) The audience gave a standing ovation. She looked overwhelmed – overwhelming.
h) She has a little charmed – charming store.
2- Coloque las palabras en el orden correcto.
3- Completa las siguientes oraciones agregando

ING

o

ED

al verbo entre paréntesis
4- Re-escribe las oraciones convirtiendo el verbo en adjetivo
E.g.: The teacher discourages me→ He/She is a discouraging teacher
It looks like his words comforted her → She looks comforted because of his words
Ahora, practica for, since y ago en inglés ◄◄
Terminan aquí los ejercicios con adjetivos terminados en ING y ED. Muchas gracias por su visita.